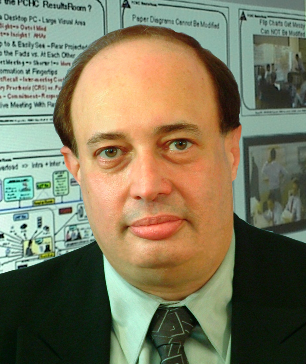 Dr. Robert Solomon is a pioneer and leader in creating and applying new technology-based thinking methodologies to enable CEOs and their organizations to innovate, make breakthroughs, overcome barriers to growth, and increase profits.
He has conducted sell-out Executive Briefings internationally to thousands of CXOs in hundreds of invited, sponsored, and custom in-house programs on the business payoffs of new strategies and technologies. He has produced a ten hour Video Series with MIT, was the Chief Moderator for the Harvard Business Graphics Conference, and is authoring a new book: "Beyond Babel - Solving Impossible Problems".
As CEO of TRILLENNIUM Corporation, Dr. Solomon draws on his wide, varied experience from over 600 consulting programs to advise senior executives from Fortune 500 to medium size companies.
He has led the TRILLENNIUM team in

helping companies solve complex problems

, develop strategies for sustainable growth, deal with competitive threats, meet financial challenges, evaluate and manage acquisitions, expedite transitions into new technologies, identify new markets, and innovate new products and services.

He and his staff have acted as a composite "virtual executive" at

major companies

for over fifty client-years. He has worked closely with key executives in planning and implementing multi-disciplinary, cross-functional programs to innovate new products and applications, increase market share, catalyze change, increase profit, and reduce time to market.

Since 1997, Dr. Solomon has focused on developing the ThinkRoom™ Process - a powerful proprietary, technology-based approaches to improve collaborative thinking, and empower clients to augment and amplify their intelligence assets to solve complex problems.

He pioneered the early utilization of many cutting-edge technologies in a wide range of industrial, commercial, and consumer products such as: laser printers, LCD projectors, video conferencing, smart buildings, adaptive process control systems, medical instrumentation, imaging systems, robotics and mechatronics, and Augmented Intelligence products such as the Concept Processorô.

His non-profit work has covered challenging diverse complex areas such as: state government, transforming our educational system, new approaches to cancer research, and preventing nuclear disaster.

Dr. Solomon received his Doctor of Philosophy at the Massachusetts Institute of Technology. He served on the faculty at Worcester Polytechnic Institute where he was director of the Computer Architecture Laboratory and also headed the Color Research Team at the MIT Media Lab.